Yandex Browser with Protect
Secure Your Internet Sessions with this Android Browser
If you are unsatisfied with the performance of your Android browser then you should give this browser a chance. Yandex Browser with Protect is a nice app which allows you to surf the internet privately on your phone and gain quick access to your favorite websites. It lets you log-in to your website accounts safely even when using a public Wi-Fi network. Thanks to its Protect security system, you won't have to worry about fraudulent websites. Moreover, with the help of third-party ad blockers, this browser can also ensure that you don't see any annoying ads during your browsing sessions. It can help you in saving your internet data and also ensure that your browsing speed never drops even if the internet connection is slow.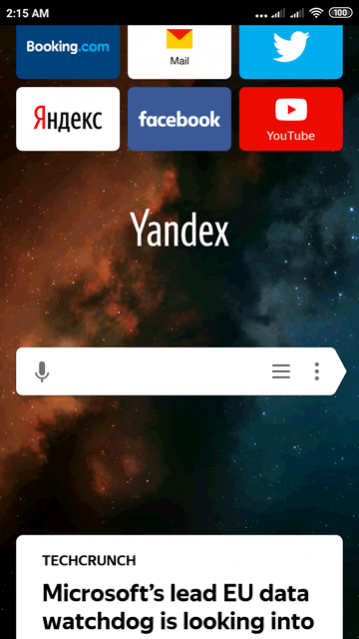 Yandex Browser with Protect has a simple user interface which meshes perfectly with its elegant design and layout. The home screen of this Android browser is beautifully set up with three distinct sections. On the top half, you have website badges of popular websites. These badges are links to these websites and can be used for quickly accessing them. You can customize the websites badges to include websites that you visit often. In the center of the home screen, there is the Search bar which allows you to search for anything on the internet. The bottom half of the home screen is taken up by a news feed which contains stories sourced from websites of your choice. There is a large collection of background screen available for customizing the home screen too.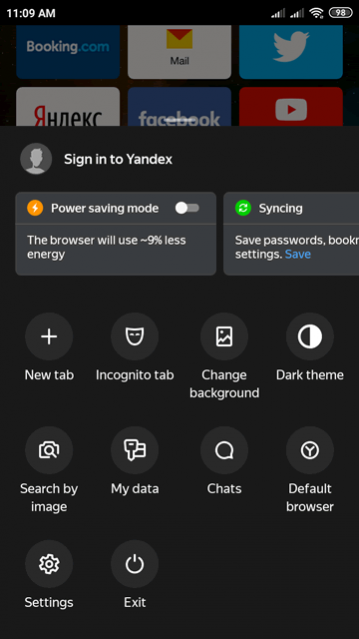 This Android browser has an automatic Turbo Mode which activates whenever the speed of your internet connection drops. This mode ensures that you don't feel any kind of lag in viewing videos or accessing website content. While in this mode, the browser also limits the data use as well so your internet data doesn't go to waste. Yandex Browser makes use of various third-party extensions to enhance your browsing experience. These extensions include ad blockers as well. The job of these extensions is to block the pop-up ads that disturb you when opening certain websites. To enhance your viewing experience, this browser has a dark theme available too. It can help you in browsing the internet at night. You can enable it from the browser's menu tab.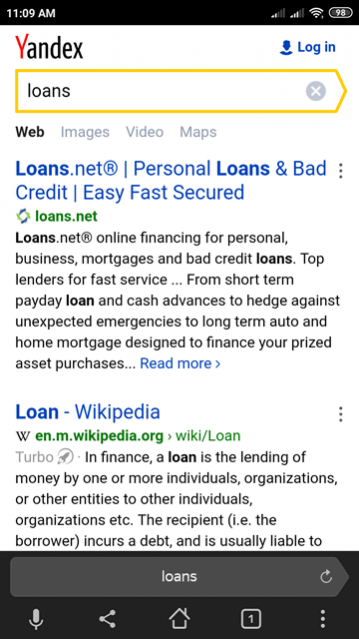 Yandex Browser with Protect utilizes a Protect security system. It secures open Wi-Fi networks so that you can surf the web without any fear of hackers. The Protect security system preserves your privacy and ensures that your personal data remains unharmed. If you don't want your browsing history to be noted by the browser then you can enable the Incognito mode. In this mode, you can surf the web privately. This Android browser lets you bookmark the websites you like. These bookmarks can be synced and accessed on any device. However, this feature requires you to create a Yandex account.
Features:
Simple user interface
Elegant design and layout
Fast browsing speed
Access your favorite websites with Website Badges
Search bar to look for anything on the internet
Turbo Mode for loading websites quickly
Block unwanted ads using various third-party extensions
Bookmark the websites you like and access them on all devices
Privately browse the internet in Incognito Mode
A large collection of background screens on offer
Protect security system for securing public Wi-Fi networks
Conclusion:
Yandex Browser with Protect is an app which will primarily appeal to people who are tired of slow browsing speed. It enables them to access their favorite websites at fast speeds even when their internet connection is lagging and provides them an ad-free browsing experience by blocking all the unwanted ads. It is an Android browser worth having on your phone if you want to ensure your privacy when using public Wi-Fi networks.
---
Add a review
Tell us your experience with
Yandex Browser with Protect
RELATED PROGRAMS
Our Recommendations
---
---
---
---